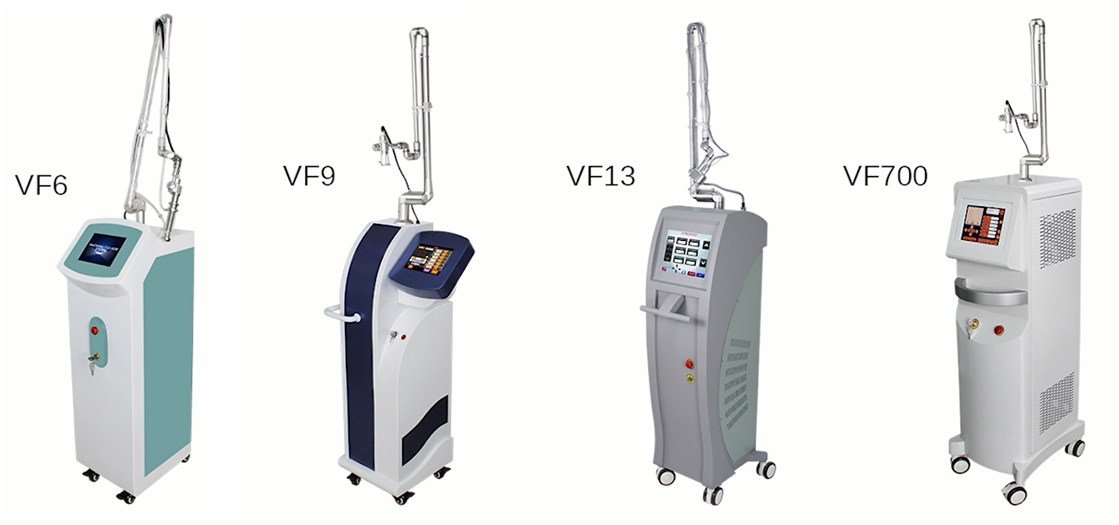 Introduction:
Fractional ablative CO2 resurfacing delivers 10600nm laser in fractional manner into the skin while leaving the untreated surrounding areas intact. Laser creates microscopic thermal dot on surface and performs within tissues, offering improve skin tightening, age spots, fine lines, acne scars, stretch marks removal and vulva rejuvenation. The untreated tissue helps to accelerate the healing process and rejuvenate the skin by promoting microcirculation and new cell genesis.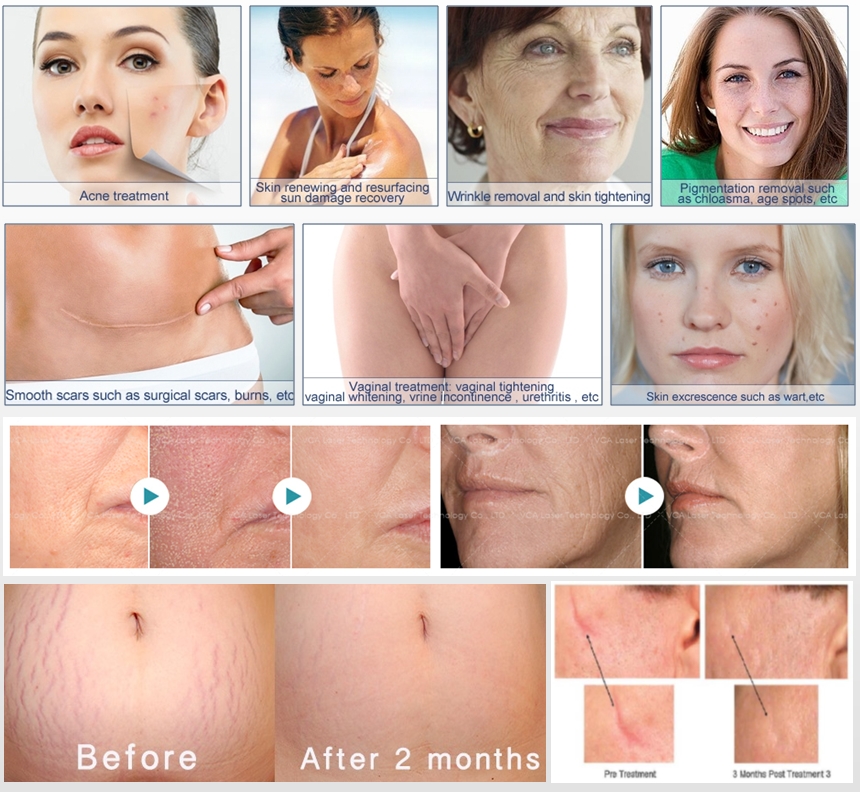 Multi-function:
The machine has 3 systems: Scanning, Cutting, Gynecology, it can satisfy all needs, very excellent investment.
For Skin Rejuvanation
It fires a laser beam which is then split into numbers of microscopic beams, producing tiny dot to peel skin and penetrate the laser beam into the corium, producing tiny dot or fractional treatment zones within the selected target area only. Therefore, the heat of laser only passes deeply through the fractional damaged area. This allows the skin to heal much faster than if the whole area was treated. During the skin self-resurfacing, a great amount of collagen is produced for skin rejuvenation, eventually the skin will look much healthier and younger!
For Vaginal Tightening
It should be viewed as a medical treatment to counter vaginal dryness and the uncomfortable symptoms associated with menopause. This simple in-office procedure will stimulate collagen production and in turn improve the blood supply and moisture levels to the vaginal tissues.
Application:
<1> Fractional system
Collagen contraction and remolding;
Skin tightening and lifting;
Pore minimizes;
Pigmentation & age spots removal;
To treat photo aged skin and fine lines;
To treat scars – chicken pox, post acne, post traumatic scars;
Eliminates dead cells from the epidermis;
Improve skin texture & skin tone
<2> Gynecology system
Tighten vagina –Fast tightening, lasting constriction, tightness to improve 60%;

Clean the vagina – Deep anti-aging, young level to improve 80%;
Moist vagina – Improving secretion, moisture level to improve 80%;
Pink vagina – Vulva rejuvenation, lighten pigment and pinks labia parts, delicate degree to improve 70%.
Vaginal tightening, elasticity increasing.
Collagen remodeling of vaginal tissue.
Treatment of insufficient vaginal secretion.
Vaginal anti inflammatory, developing immunity.
Remission of vaginal dryness and urinary incontinence.
Features:
(1) Safe treatment: Totally safe, and tested by hundreds of women in the world; the ideal wavelength is absorbed by the mucous membrane micron, to avoid any thermal damage by deep tissue or organ.
(2) Fast treatment: Each treatment less than 30 minutes and 1-3 times treatment can completely solve the vaginal problems.
(3) Effective treatment: Effective for all women who have the loosen vaginal; and effective prevention of gynecological inflammation.
(4) Painless treatment: The patients only can feel warm/hot inside, cannot feel any pain.
Advantages:
1. System 3 in 1: Scan, Normal, Gynecology
2. The output of 10600nm metal laser imported from USA has stable performance, excellent effect and long service life.
3. Absorb function: suck away the dandruff produced during treatment.
4. 10600nm is invisible light, our company added the unique red light indicating function, the treatment localization is more accurate.
5. The scanning head has 3 sizes, which can be selected for different areas.
6. Scanning mode: 12 kinds of basic laser shape, treatment area, treatment spot optional, including unique hollow design.
7. Cutting mode: continuous, Single, ultra pulse random switching, clinical application is more extensive. It has the advantages of higher operation precision, shorter treatment time, less thermal injury, smaller wound surface and faster healing
8. 7-joint arm design, more convenient operation, more cost-effective
9. Super large color touch screen design, man-machine interface, easy to operate and learn
10. Automatic alarm system, equipment failure self-test, more secure.
11. The diameter of focal spot (0.2 mm) and the distance can be adjusted at will, and the treatment time is better.
12. The choice of different focal spot density (the number of focal spots per unit area) provides free choice of the area of exfoliated tissue in the treatment area
13. Rapid treatment does not affect daily life and work.
14. Modular design, easy to maintain.
Parameters
| | |
| --- | --- |
| Display | 8.4 / 10.4 /15 inch LCD real color touch screen |
| Light conducting system | 7 jointed arms to conduct light |
| Wavelength | 10.6µm |
| Tube Type | USA RF tube/ Glass tube (optional) |
| Power | 30W |
| Mode | Normal / Scan / Gynecology |
| Laser energy | 1-30W / 10-1000mj |
| Figure option | Square, Triangle, Round, Rectangle, Line, Hexagon, etc. |
| Scan pattern size | 0.1x0.1mm—20x20mm |
| Scan mode | Continuous, super pulse, fractional |
| Dot quantity | 25,000 dots at most |
| Spot distance | 0.1-2mm |
| Pulse energy | 1mj to 100mj is optional for each dot. |
| Times of scanning | 1-20 times |
| Condenser focus | f=50mm |
| Spot size | ≤0.2mm at the focus |
| Radiation time / Interval time | 0.011 s |
| Aiming beam | 635nm infrared ray |
| Power supply | 110/230V±10%, 60/50Hz |
VCA Company
Beijing VCA Laser Technology Co., Ltd. is one of the largest and earliest professional beauty and medical equipment manufacturers in China who sets development, research, production, sale and after sale in one. Currently with 23 years experiences, cooperated with 171 countries customers.
We've already independently researched and developed Ultrasound Cavitation, Vcuum, RF, Cryolipolysis, Lipolaser, Fractional CO2 laser, Nd: YAG laser, RBS vascular removal, Diode laser, Thermage Fractional RF, IPL, E-light, SHR, 808nm diode laser, 3D HIFU, Dental soft tissue laser teeth whitening,etc. We established wide range of technical cooperation in the long-term with the Institute of photoelectric in the United States, Germany, Israel and Japan, which formed our advanced R&D new product development processes and project management system. It can meet our customers' needs about products of quick, high quality and low-cost.
Service: We offer 3 years free warranty for our distributors, lifetime maintenance, 24 hours calling service. Specific and professional user manual, treatment manual, technical service manual, training video CD will be provided.
Certificates: All products have been approved by CE certification, our company passed TUV ISO 13485: 2003 Quality Management System.
Quality: VCA LASER basic task is to promise product quality. Our machines maintain rate is nearly to 0. Due to our machines'80% spare parts are imported from the famous factory in world to make sure the best quality.
OEM/ODM: We have mold factory, painting factory for ourselves, fastest and lowest cost price for making OEM/ODM service, your special demands can be meet perfectly.
QUALITY CHANGE WORLD! WELCOME TO VISIT OUR FACTORY!